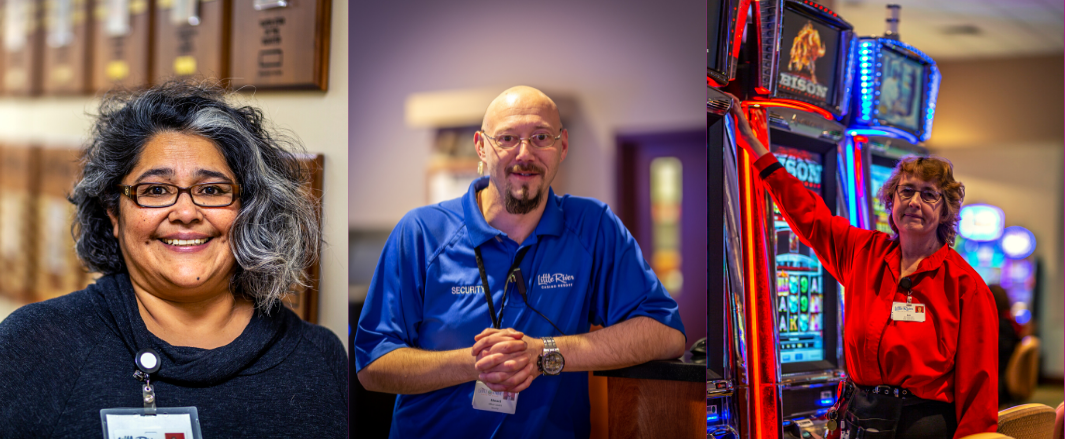 Fast Track Thursdays
(Get an instant interview)
Every Thursday, 10am-5pm
Human Resources office
ENJOY A SUITE OF BENEFITS THAT BENEFIT YOU!
FULL TIME TEAM MEMBERS:
Medical, Dental, Vision, Life Insurance, AD&D, Flexible Spending Account, Voluntary Life Insurance, Short Term Disability, Long Term Disability, 401K match up to 4 percent, Holiday pay including Team Member Birthday, up to 3 weeks of Paid Time off can be earned in the first year and Flexible Scheduling

PART TIME TEAM MEMBERS:
Generous Paid Time Off accrued on hours worked, Holiday pay including Team Member Birthday, 401K match up to 4 percent and Flexible Scheduling

SEASONAL TEAM MEMBERS:
Work up to 6 months with the ability to return year after year with flexible scheduling

ADDITIONAL PERKS OF BEING A TEAM MEMBER AT LRCR:
Team Member of the Month/Quarter/Year, Team Member Recognition Committee, Safety Committee, Meal Discounts, Gift Shop Discounts, Gas discount at the C-Store, Golf Membership Discounts, Holiday parties for Team Members, Summer cook-outs, Ice Cream Socials, Company Picnic, Community Service Opportunities and more!

IF YOU ARE PASSIONATE ABOUT DOING YOUR BEST WORK, MAKING A DIFFERENCE, AND HAVING FUN WHILE DOING IT, APPLY TO ONE OF OUR OPEN POSITIONS!
LITTLE RIVER CASINO RESORT
ATTN: RECRUITING
P.O. BOX 417
MANISTEE, MI 49660
PHONE: 1-888-568-2244 OR 231-723-4530
FAX: 231-723-1589
EMAIL: RECRUITING@LRCR.COM
OFFICE HOURS ARE MONDAY THROUGH FRIDAY 7AM-5PM.
*THE LITTLE RIVE BAND OF OTTAWA INDIANS PROHIBITS DISCRIMINATION WITH REGARD TO AGE, RELIGION, RACE, GENDER, SEXUAL PREFERENCE, HEIGHT, WEIGHT, NATIONAL ORIGIN, HANDICAP OR PHYSICAL DISABILITIES WHILE HIRING TEAM MEMBERS AND RECOGNIZES NATIVE AMERICAN PREFERENCE IN ACCORDANCE WITH TRIBAL LAWS.