As a Little River Casino Resort Players Club member, you have the opportunity to earn exclusive rewards and to participate in our giveaways for more FUN! Best of all, it's FREE to join. Make the Players Club your first stop at Little River. Present a valid photo ID to become a member today. Members must be 18 years of age or older.
Complete rules are available at the Players Club.

At Little River Casino Resort we have four reward tiers in our Players Club: Lucky, Silver, Gold and Elite. Make sure to use your Players Club card each and every time you play to maximize your rewards.
Play without your card is not counted towards earning rewards.
---
Lucky Club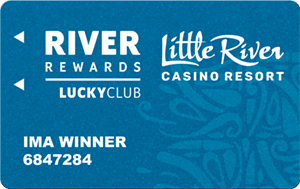 Become a new card member and earn 5 points on slots, or earn a $10 minimum average bet in table games, by midnight the following day and you can stop by our promo kiosks to play our new member promotion for great prizes!
Hit it Big with the Lucky Club at Little River for Great Savings and Discounts for FREE.
Free membership
Convert points to River Credits for free slot play
Participate in our promotions for cash and prizes
Earn points to use for hotel stays, spa treatments, restaurant credit, and more
Personalized hotel rates
---
Silver Club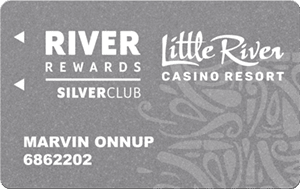 The upgraded membership for active players, with even more benefits and perks to enjoy from Little River Casino Resort!
Earn 1,000 Players Club points in one year to become a member of the exceptional Silver Club at Little River. All of the benefits of the Lucky Club Plus:
Exclusive silver club promotions
Special offers
Bonus entries for drawings
10% restaurant discount
10% White Pine Boutique discount
---
Gold Club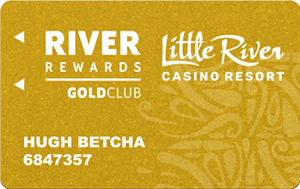 The membership for the serious and loyal player, with golden rewards exclusively for you!
Earn 7,500 Players Club points in one year to become a member of the prestigious Gold Club at Little River.
Bonus entries for drawings
Earn points to use for stays, dining, free slot play and more
Priority service at Players Club
Exclusive events & promotions
Personal VIP services
Reserved VIP parking
VIP Lounge access
Resort pool and fitness room access
15% restaurant and White Pine Boutique discounts
Plus much more…
---
Elite Club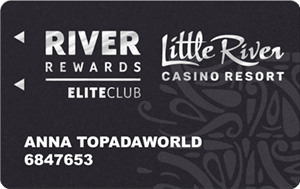 Elite membership is for the passionate and devoted player, featuring exclusive rewards for you.
Earn 18,750 points in one year to become a member of the exclusive Elite Club at Little River! All of the benefits of the Gold Club PLUS:
Exclusive points promotions for gas at the Little River Trading Post
Express VIP hotel check-In
25% restaurant and White Pine Boutique discounts
Next car up in valet
Charter fishing*
Premium seating for entertainment**
Meet & greet for national acts**
Complimentary drink specials*
Plus other rewarding perks!
Players Club Benefits

Lucky

Silver

Gold

Elite

Jan 1 to Dec 31 Earn Points to Qualify

0 - 999 points

1,000 - 7,499 points

7,500 - 18,749 points

18,750+ points

Free Membership
Point
Qualifier
Point
Qualifier
Point
Qualifier
Convert Your Points to River Credits for Free Slot Play
Participate in Promotions for Cash and Prizes
Earn Points to Use for Hotel Stays, Spa Treatments, Restaurant Credit, and More
Personalized Hotel Rates*
Exclusive Promotions Days*
Invitations to Special Events*
Special Offers & Rewards
Bonus Drawing Entries*
Restaurant Discounts***
10%
15%
25%
Gift Shop Discounts***
10%
15%
25%
Receive Golf Discounts at Participating Local Area Golf Courses*
Complimentary Drink Specials*
Priority Service at the Players Club
Personal VIP Services
Reserved VIP Parking
VIP Lounge Access
Resort Pool and Exercise Facility Access
Exclusive Points Promotions for Gas at the Little River Trading Post Gas Station
Express VIP Hotel Check-in
Next Car Up in Valet
Charter Fishing*
Premium Seating for Entertainment**
Meet and Greet for National Acts**
Reserve Seat/Slot Machine** (1 hour advance)
Slot/Seat Hold Priviledge** (2 hours maximum/1 per day)
*Based on rated play **Based on availability ***Not available with any other discount including comp

Players Club base points earned within one calendar year qualify you for your tier level.
Silver tier status, once earned, will not expire unless the player is inactive for 18 months.
Gold and Elite tiers are re-carded each March.
Bonus points (e.x. Double Points) do not count towards qualifying for tier levels.
Points automatically expire 18 months from date they are earned.