Spa & Salon Menu
Come celebrate a sweet moment with us! The Nectar Spa & Salon offers a wide range of soothing, relaxing, energizing spa and salon services. From massages, body treatments, facials, skin enhancements, manicures, pedicures and much more! Full menu
Request an appointment online or call toll free 1-888-568-2244 or local 231-723-1535.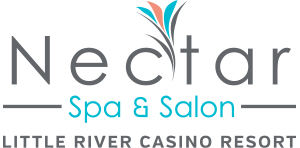 A small selection from our menu is below:


MASSAGES
Nectar's Nature
25/50/75 minutes
$60/$90/$110
signature massage
Traditional Swedish massage using light to moderate pressure combined with our signature Nectar massage oil will help eliminate muscle fatigue, relieve tension, and improve circulation.


Deep Tissue
25/50/75 minutes
$70/$110/$145
Works the deeper structures of the muscles to alleviate knots and tension. Ideal massage for individuals wanting more detailed work on specific muscle groups or areas of chronic pain.


Scent of Nectar
25/50/75 minutes
$65/$100/$120
aromatherapy massage
A personalized blend of oils, created especially for you that are massaged into your skin, enhancing your state of mind and your body.


Hawaiian Lomi Lomi Massage
75 minutes
$125
This traditional Hawaiian form of massage utilizes long, flowing and rhythmic strokes combined with joint mobilization to increase lymph flow and circulation.


Hot Stones
75 minutes
$150
Hot stone massage combines traditional Swedish massage with warm, smooth basalt stones, providing deep heat to relieve tense muscles and sore joints.


Topper
25 minutes
$55
De-stress with this East Indian scalp massage. This service targets neck and shoulder muscles utilizing point and stretch therapy.


Reflexology
25/50 minutes
$65/$95
Specialized pressure point massage techniques work the hands or feet to release tension and restore energy flow to the body.


Foot Massage Enhancement
15 minutes
$35
Add this service to any of your massage or body treatments.


Bio Freeze Enhancement
$6
Cold therapy pain relieving gel treatment.


Dry-Brush Enhancement
$15
Add the service of dry brushing to any of your massage or body treatments to improve circulation throughout the lymphatic system.


BODY TREATMENTS
The Monarch
75 minutes
$140
signature body treatment
We combined full-body exfoliation (utilizing customized masques) with the addition of our signature Nectar's Nature massage so that you can experience rejuvenation and relaxation in one sweet little package.


Milk and Honey Wrap
50 minutes
$110
You will love this hydrating and anti-aging experience that starts with a gentle dry brush to boost the lymphatic system. We will wrap you in a cozy cocoon of warm milk and honey to sooth and detoxify the skin. Then, while absorbing the skin-healing goodness of a full body wrap, you're treated to a relaxing scalp massage.


Sugar/Salt Glow
25 minutes
$60
A full body exfoliation with salt or sugar scrub, followed by a lotion application that will leave you glowing!


Nectar Masque
50/75 minutes
$110/$120
Treat yourself to our signature Nectar's elixir masque that will be applied to your body following a full-body exfoliation. A soothing lotion application is the perfect finish.


FACIALS
Fresh Nectar
25/50 minutes
$65/$80
signature facial
Our KPS Essential line brings you closer to the Earth! This individually designed and customized treatment includes deep pore cleansing and dermal replenishment, utilizing Michigan made products from a proprietary blend of organic, food-grade oils and organic, plant based cellular compounds specifically selected for each skin type.


Royal Luminizing Treatment
50 minutes
$85
anti-aging facial
An ideal hydrating treatment for mature skin utilizing antioxidants, peptides, and retinol - specifically selected for their ability to revitalize, smooth and enhance.


Queen Bee Enzyme
50 minutes
$90
Our specifically designed Nectar elixirs, combined with antioxidants strengthen skin while removing bacteria to restore skin clarity, tone and texture. This treatment is recommended for dull, dehydrated, oily and acned skin conditions.


Gentleman's Facial
50 minutes
$80
Designed specifically for the care of a man's skin, this treatment relieves shaving irritation while purifying, hydrating, softening and soothing.


Back Facial
50 minutes
$75
During this treatment your shoulder area will get a purifying and detoxifying masque, extractions by our trained aestheticians and gentle massage with our signature honey hydrating lotion.


SKIN ENHANCEMENTS
NuFace® Upgrade
$60
An addition to any facial with amazing results.


LED
30 minutes
$35
Trinity Wrinkle Remover delivers LEDs to reduce fine lines and wrinkles and improve skin texture.


Ice Roller
$15
A refreshing eye treatment.


MAKE-UP
Make-Up Application
25 minutes
$40 + up
Our Master Artists will detail your personal application, utilizing the latest trends, looks and the easiest way to bring out those lovely features. Also includes a 'how to' on duplicating that look at home.


Pretty Bird
50 minutes
$55 + up
The 'all about you' bridal treatment. This application will preen the soon to be bride into sheer perfection. Includes a strip lash application.


Butterfly Flutterers (lashes)
Strip/Individual
$15/$25
The perfect makeup accessary. Enhances and boosts your natural lashes for a seamless look. Individual lash clusters are the closest thing to natural lashes. Fill in and enhance natural lashes temporarily.
HAND AND FEET
Sweet Treat
50 minutes
$55
signature hand treatment
Our deluxe service includes a soak, scrub, cuticle attention, massage, warm paraffin dip and polish of your choice. (French polish and or Vinyl Lux is an additional charge)

Little Sweets
25 minutes
$40
express hand treatment
In a hurry? Express hand treatment. Includes a hand soak, cuticle maintenance, and lotion application, complete with your choice of polish. (French polish and or Vinyl Lux is an additional charge)

Sweet Feet
50 minutes
$70
signature foot treatment
Our deluxe service includes a soak, scrub and exfoliation, cuticle maintenance, massage, warm paraffin dip and polish of your choice. (French polish and or Vinyl Lux is an additional charge)

Sweet Nectar Too
25 minutes
$50
express pedicure treatment
This quick treatment is designed for those on the go, but can squeeze in just enough time to feel relaxed. Includes foot soak, cuticle maintenance and lotion application. Your choice of polish. (French polish and or Vinyl Lux is an additional charge)

Polish Change (hands or feet)
$20
Need to freshen up? We have the latest colors to show those hands and feet off with confidence. (French Polish and or vinylux is an additional charge)

Paraffin Treatment [hands or feet)
$25
Add extra softness and moisture to your skin with this warming and conditioning treatment that will make you feel totally pampered and simply glamorous.

French Polish
$10
French polish variation application.

Shellac Manicure
$55
Shellac manicure service combines the ease of polish with a high gloss shine and extended wear. Includes hand soak, cuticle maintenance, lotion application and your choice of color. (French polish is an additional charge)

Shellac Removal
$10
Gentle removal of shellac application.
WOMEN'S HAIR
Hair Cut
$35 + up

Blow-Out Styling
$25 + up

ADD ONS:
Thermo Styling: Curling or Flat Iron
$15 + up

Formal Styling
$60 + up

Bridal Styling
$70 + up

Pure Brazilian Blowout
$250 + up

Deep Conditioning / Hair Mask Treatment
$15 + up

The Hive
$30 + up
Step up and let our hair stylists assist in creative ways to add style, chic, and charm to your "do."
HAIR COLOR
Root Touch-Up
$50

Semi-Permanent
$70 + up

Permanent
$90 + up
FOIL HIGHLIGHTS
Short Hair – Crown only
$60 + up

Short Hair – Full
$90 + up

Long Hair – Crown Only
$85 + up

Long Hair – Full
$120 + up
MEN'S HAIR
Cut and Style
$25 + up

Beard Trim
$15

Grey Blending Service
$20 + up

ADD ONS:
Low Lights Short/Long
$10/$20 + up

Toner
$10

Deep Conditioning
$10

Pre/Post Deep Conditioning Treatment
$15

Dry Scalp Massage
$15/$25
WAXING
Lip/Brow/Chin
$15

Underarm
$35

Bikini
$50

Full Legs
$70 + up

Half Legs
$45 + up

Back
$60 + up
SPA PACKAGES
Flight of Fancy
4 hours
$285
Our sweet spa indulgence begins with our 50 minute Nectar's Nature massage, followed by our 50 minute Fresh Nectar signature facial. Then visit the salon for our signature Sweet Treat hand treatment and our Sweet Feet foot treatment.

Sweet Suite
2.5 hours
$240
The mini beauty ritual of Nectar will calm and refresh. The treatment begins with your choice of a Sugar or Salt Glow with a Vichy shower. We'll wrap you in a customized detoxifying body mask to draw out impurities while you enjoy a scalp massage and then finish things up with our 50 minute signature Nature's Nectar massage.

New Bird
2 hours
$110
Try a brand new look or enhance your current style with a professional wash and style. Compliment your new look with a make-up application and indulge yourself in our Little Sweets express hand treatment.

Take a Sip
2.5 hours
$210
A perfect pick-me-up when body and spirit need a little TLC! This uplifting package includes: the 50 minute Nectar's Nature, our Fresh Nectar signature facial, and our 25 minute Sweet Nectar Too pedicure treatment.

On the Rocks
1.5 hours
$205
Calm restlessness and promote relaxation naturally with a full body Hot Stones massage (50 minutes) and a deeply relaxing foot reflexology treatment.
Bridal Bouquet
2.5 hours
$205 + up
On your special day, allow our artists to enhance your lovely glow with a beautiful make-up application – expertly designed by a Master Artist. Your hair will be unforgettably stunning, and the bridal manicure and pedicure, finished with your favorite shade of polish, will jumpstart your perfect day!

Happy Your Day
2 hours
$160
Enjoy the 'pampered package' from Nectar's best! Begin your day with our signature Nectar's Nature massage (50 minutes) and to put the icing on your cake – a Fresh Nectar signature facial (50 minutes) – exfoliation, soothing masque and moisture balance - that baby face you were born with!

The Best Nest
1.25 hours
$230
Celebrate that cherished day - together. In a private treatment suite, share a romantic side-by-side couple's massage. Bask in the relaxing and soothing Scent of Nectar massage – seventy-five minutes of wonderful – complete with soothing scents and a tranquil setting.

Honey-Do
2.5 hours
$220
Designed with the guys in mind. Restore your well-being with a 25 minute salt/sugar glow, a gentleman's facial treatment and – to put you back on your perch – a 50 minute signature Nectar's Nature massage.