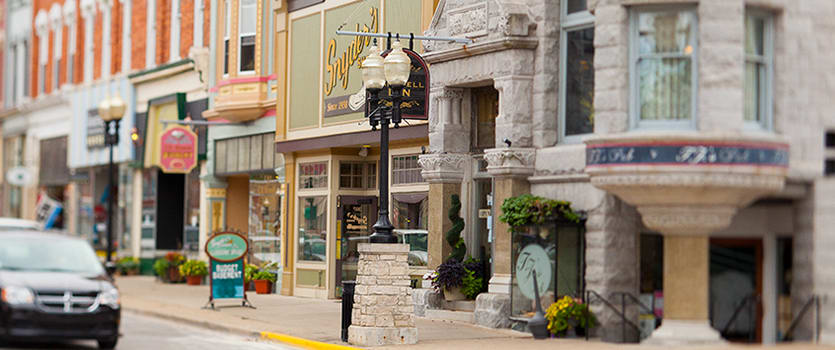 Nestled on the banks of Lake Michigan, Manistee is a delightful town full of fun activities for every season. Unique shops and local restaurants line quaint streets of downtown Manistee, and the beautiful scenery invites you to explore trails, rivers, and scenic drives.
Take a look at the top things to do and see while you're here. For more attractions, visit Manistee County's website.
Outdoor Recreation
Green springs. Pleasant summers. Colorful autumns. Snowy winters. Manistee showcases the best of every season with endless outdoor activities. Hike and bike miles of tree-lined trails, or spend the day perfecting your golf game. With three rivers and the beaches of Lake Michigan nearby, water lovers will find plenty to do, from fishing to swimming to paddling. In the winter, Manistee transforms into a fantastic destination for skiing, snowmobiling, and snowshoeing.
Shopping & Antiquing
Manistee's boutiques and shops offer visitors an eclectic shopping experience. Browse everything from clothing and furniture to gifts and local crafts. You'll also find a nice selection of antique stores offering unique pieces.
Historic & Coastal Tours
If you like exploring sights and sites, Manistee offers a number of tours you'll enjoy. For history buffs, you can choose from a self-guided walking tour or a trolley tour of downtown Manistee, grand Manistee homes, and other sites of interest. If beautiful landscapes are more your style, head up the M-22 for a picturesque coastal drive along the Lake Michigan coast. Be sure to stop off at the Arcadia Overlook, the highest point in Manistee. From there, you can catch sweeping views of the lake.
Wine Tasting
Manistee County is an emerging region in the wine and spirit market. Stop by the area's wineries and distilleries to find a new favorite wine, cider, or spirit.
Riverwalk
Following the banks of the Manistee River, the Riverwalk runs along the Manistee River Channel that connects Lake Michigan and Manistee Lake. The South Riverwalk is a leisurely 1.75-mile walkway with wonderful views of river wildlife and boats that run through the channel. On the north side, you'll find benches, fishing decks, and grassy areas that lead to a gazebo that hosts concerts in the summer.
Festivals & Live Music Events
From holiday celebrations to concerts and food festivals, Manistee always has something fun happening. Check out the full event calendar to see what's coming up.