When will you open?
We are open. Please note the following: only those aged 18+ and up are allowed at the Resort until further notice.
Will there be any restrictions when you open?
A detailed health & safety program has been finalized that prioritizes the health and safety of our team members, guests, and community. Click to view our Health & Safety Program
Please note the following: only those aged 18+ and up are allowed at the Resort until further notice.
Are masks mandatory?
Properly worn masks are required while on property with the following exceptions:
• While seated to dine in one of the restaurants
• While eating or drinking a beverage on the gaming floor.
• While in a hotel room.
• When you need a quick break and can socially distance a minimum of 6 feet from team members and all other guests not in your party.
• To smoke in designated smoking area(s).
Guests are encouraged to bring their own mask. One will be provided at the entrance for those who do not have one based on availability of inventory.
Is smoking allowed?
Effective Monday, July 20 at 12:01 am we are temporarily changing our designated smoking areas. Smoking & Vaping is permitted in two areas; the designated Three Fires Conference Center room or hotel room designated as a smoking room. All other areas, including the courtyard and outdoor pool, are smoke-free and vapor free.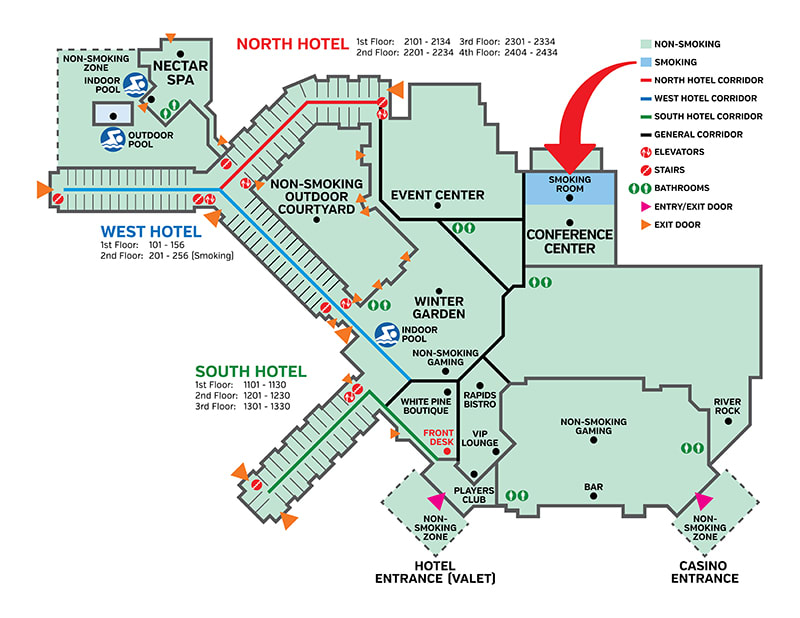 Is there shuttle service or valet available?
These services are suspended until futher notice.
Do you have wheelchairs available for use while on property?

No, wheelchairs will not be available until further notice.

Is the Big Lake Buffet open?
Sorry no, this restaurant is closed until further notice.
Can I participate in the Birthday promotion, if my birthday occurred while you were closed?
Sorry, the birthday promotion is available once during the calendar month of your birthday. If your birthday occurred during a month that we were closed, our promotion was not available.
What if I purchased or received tickets for concerts?
All 2020 concerts have been canceled. If you have purchased tickets for a show that was canceled you will get a refund. Credit card purchases will automatically be refunded to your card from eTix. Cash purchases will be refunded at the Little River box office beginning June 1 or you can mail your request for a refund to PO Box 417, Manistee, MI 49660 to receive a check. Requests for refunds must be made by August 1, 2020.
If tickets were purchassed with a check, the person who purchased the tickets, named on the check, must request the refund.
Is there someone available to contact for other questions?
Send questions via your player portal at My River Rewards or send to fun@lrcr.com.
Can I book a room?
We are we are currently booked through September to the general public.
For stays starting October 1st reservations can be booked using the online reservation system.
Hosted patrons must contact their Casino Host for assistance with reservations during this time.
Is the RV Park open?
Yes.
Is the outdoor pool open?
Yes.
Is the Nectar Spa & Salon open?
Sorry no, it is closed until further notice.
Are drawing entries being carried over?
Drawing entries from March will carry over into the August Heatwave Promotion.
Can TITO tickets that expire during the closure still be redeemed?
Yes, bring in your TITO tickets that expired during the closure to the cage cashier by July 31.
I haven't received a River News, when can I expect to receive one?
August River News was mailed and is beginning to hit mailboxes. We recommend registering for free access, then logging into your player account at My River Rewards.