Are masks required?
Effective 10/1, a mask is no longer mandatory. We recommend wearing a mask while indoors.
Do you have restrictions?
A detailed health & safety program has been finalized that prioritizes the health and safety of our team members, guests, and community. We've changed our designated smoking areas. Continue reading below for more information. Please familiarize yourself with our complete Health & Safety plan. Click to view our Health & Safety Program
Is smoking allowed?
We changed our designated smoking areas. Smoking & Vaping is permitted in three areas; the designated Three Fires Conference Center room, a hotel room designated as a smoking room or outside of the building except in the courtyard or the outdoor pool areas. The courtyard and outdoor pool areas are smoke-free and vapor free.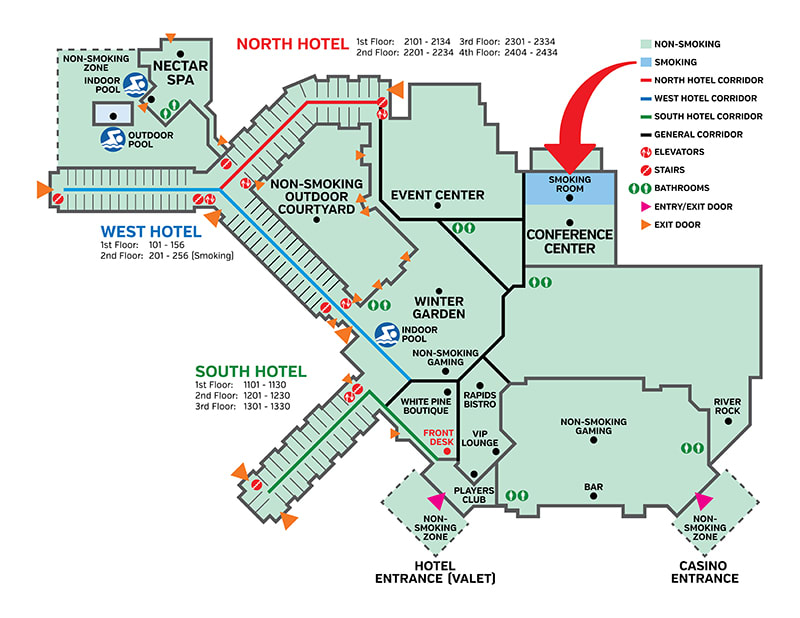 Can I eat on the gaming floor?
Eating on the gaming floor is allowed. Eating in the Pit at a Table Game is prohibited.
Guests may enjoy a beverage.
Is there valet service available?
Yes.
Do you have wheelchairs available for use while on property?

Wheelchairs are available at Valet.

Can I book a room?
Yes. Please call 1-888-568-2244 or for more convenience, we now have a texting option. To make a
reservation by text, type Reservation to 231-237-8547.
Please note that you must call or text to make a reservation, check availability, get pricing for a room or to cancel your stay.
Reservations are limited. Players Club members that received special room offers must contact the hotel to receive their preferred rate at 1-888-568-2244
Gold & Elite members should contact the Casino Host Office for assistance.
Is the RV Park open?
No. The RV Park will re-open in the spring season as weather permits.
Are the indoor pools open?
Yes.
Is the outdoor pool open?
No. The outdoor pool will re-open in the spring season as weather permits.
Is the Nectar Spa & Salon open?
Yes.
Can I see my players club online?
Yes! You can download our app from the Google Play Store or the Apple App Store. Log in using your players club number and players club PIN. You can also use our online web portal. Click on MY Rewards at the top of the page.