When will you open?
We are open.
Will there be any restrictions when you open?
A detailed health & safety program has been finalized that prioritizes the health and safety of our team members, guests, and community. Click to view our Health & Safety Program
Are masks mandatory?
Everyone must wear a properly worn mask that covers their nose and mouth. A properly worn mask is required while on property. Properly worn masks with a face shield is acceptable. Please note that guests enjoying a beverage must replace their mask to proper position (covering their nose and mouth) between EACH sip.

Is smoking allowed?
We temporarily changed our designated smoking areas. Smoking & Vaping is permitted in two areas; the designated Three Fires Conference Center room or hotel room designated as a smoking room. All other areas, including the courtyard and outdoor pool, are smoke-free and vapor free.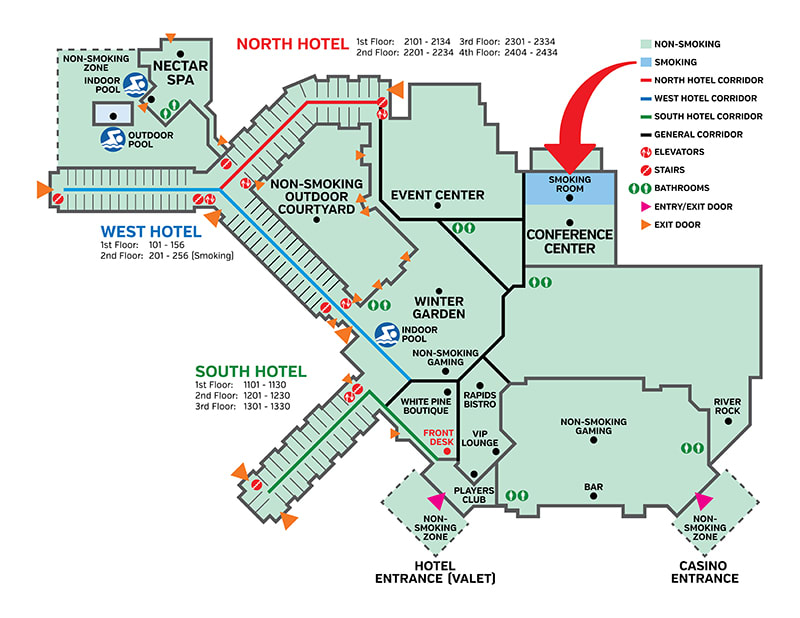 Can I eat on the gaming floor?
Eating on the gaming floor is prohibited. The Rapids Bistro and the River Rock Sportsbook & Grill restaurant are open for dine in service.
Can I enjoy a beverage?
Guests may enjoy a beverage. However guests enjoying a beverage must replace their mask to a proper position between EACH sip. Guests may step away from a Table Game to take a sip of their drink, however drinking at the table is prohibited.
Is there shuttle service or valet available?
These services are suspended until futher notice.
Do you have wheelchairs available for use while on property?

No, wheelchairs are not available until further notice.

Is the Big Lake Buffet open?
Sorry no, this restaurant is closed until further notice.
Can I participate in the Birthday promotion, if my birthday occurred while you were closed?
Sorry, the birthday promotion is available once during the calendar month of your birthday. If your birthday occurred during a time that we were closed, the promotion was not available.
Is there someone available to contact for other questions?
Send questions via your player portal at My River Rewards or send to fun@lrcr.com.
Can I book a room?
Reservations may be booked using the online reservation system.
For more convenience, we now have a texting option. To make a reservation by text type Reservation to 231-237-8547
Reservations may be limited. Players Club members that received special room offers should contact the hotel for their preferred rate at 1-866-466-7338
Gold & Elite members should contact the Casino Host Office for assistance.
Is the RV Park open?
No. The RV Park is now closed for the season and will re-open in the Spring.
Are the indoor pools open?
Yes.
Is the outdoor pool open?
No. The outdoor pool & spa is now closed for the season and will re-open in the Spring.
Is the Nectar Spa & Salon open?
Sorry no, it is closed until further notice.
Can I see my players club online?
Yes! Please register for free access, then log into your player account at My River Rewards.