With amazing table games and friendly dealers, Little River Casino Resort is the most exciting place to play blackjack, craps and more. Table limits range from $1 to $5000, perfect for both casual and seasoned players. Check out our range of games and ante up for a great time.
---
Blackjack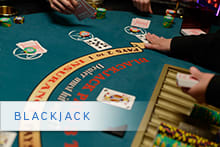 The classic game of blackjack is perfect for players of any level. The idea is to beat the dealer in obtaining cards as close to 21 as possible. Get closer than the dealer and you win. But if your total exceeds 21, you bust and the dealer wins.
---
Ultimate Texas Hold 'Em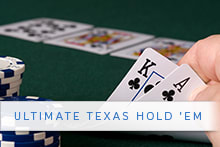 This popular poker variation features head-to-head play against the dealer and an optional bonus bet. Players and the dealer each receive two cards. They combine them with five community cards to make their best five-card hand.
---
Craps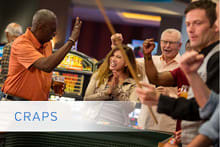 Craps is a fast-paced dice game that sparks energy and sends cheers throughout the casino. There are three dealers at the craps table: the Stickperson and two Basepersons. The Stickperson stands outside of the table and controls the dice. The Basepersons stand on the inside of the game and handle the players' bets. By listening to the Stickperson who also calls the play-by-play, you will know what's happening with each roll of the dice, including which bets win and which bets lose.
---
Let It Ride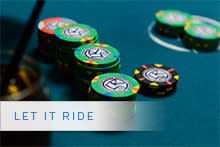 Let it Ride Bonus is based on the Five Card Stud poker game and designed to let guests control two of their three bets wagered. The biggest difference: Players do not play against the dealer or another player.
---
Roulette
Roulette is another game that both new and experienced players will enjoy, thanks to the simplicity of the rules. The roulette wheel has 36 numbers from 1 to 36, plus "0" and "00". The numbers are alternately colored red and black. "0" and "00" are green. The object of roulette is to place bets on the winning number or section of numbers and/or the winning color.
---
3 Card Poker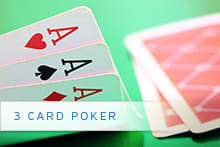 3 card poker is exciting because, unlike regular poker, you have three ways to play and four ways to win. PAIR PLUS: Bet the Pair Plus spot to bet your own hand. If your hand contains a pair or better, you win! ANTE: Bet on the Ante spot to play against the dealer's hand. PLAY BOTH PAIR PLUS and ANTE ANTE BONUS: If you make the Ante and Play wagers, you may win a bonus payout.
---
Mississippi Stud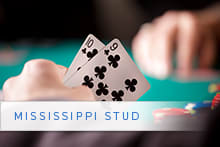 Somewhat similar to Texas Hold 'Em, the object of the game is to meet or beat a pair of jacks with your five-card hand of two dealt cards and 3 community cards.
---
Crazy 4 Poker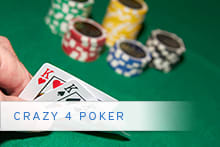 In this version of poker, players go head-to-head against the dealer. Players and the dealer each receive five cards, with the object to make their best four-card poker hand.